Staff and Student Assistants Join Labor Coalition to Call on CSU Trustees To Prioritize Investment in
Students & Workforce
Board of Trustees Approves 6% Tuition Increases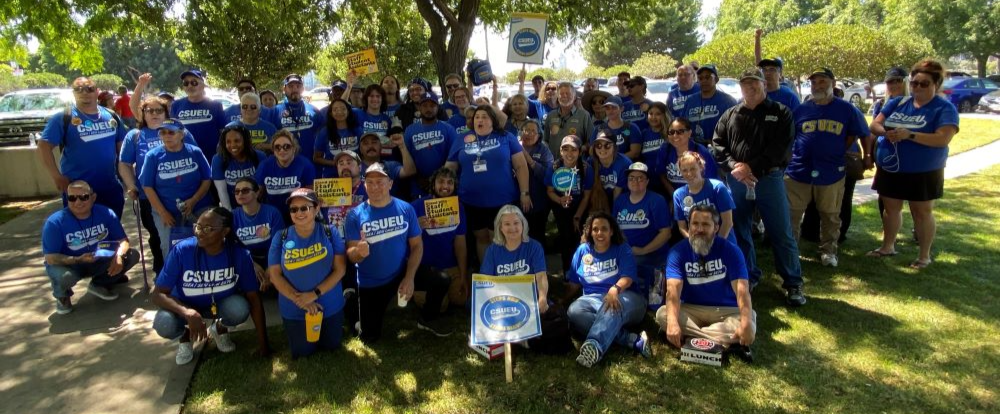 It was a big week for CSUEU members and our newest Student Assistants Unit! Even though the Board of Trustees went ahead and approved multi-year 6% tuition increases, we made sure our message was heard: The CSU exists to serve students and we will always have their backs!
We kicked off the week with a press conference to call attention to the double hit that Student Assistants face - being paid minimum wage and now a tuition hike. On Tuesday, staff and Student Assistants joined a Labor Coalition rally outside the Office of the Chancellor to demand that CSU negotiators do better if the University is serious about creating an equitable salary structure with steps. Check out the day's photos!
Our Bargaining Team members addressed Trustees urging them to show stronger leadership by advocating for more funding to support the workforce and students in their care.
It is more clear than ever that Student Assistants deserve to be recognized as CSUEU members and that the CSU needs to bargain with them over their issues of pay, sick leave, hours, parking and other fees.
Once Student Assistants are allowed to vote to join CSUEU, our union will be among the largest Support Staff unions at any public university. Here's what Cameron Macedonio, Student Assistant at CSU Fullerton, said at Tuesday's rally:
"I'm one of thousands of Student Assistants fighting to form a union with CSUEU. One thing I've learned in organizing is without the power of the union, the CSU will do what ever they want!

"And no one knows that better than you who have fought for a fair salary structure for decades! But the tide is turning and workers are rising up to hold the CSU accountable!"
What's next: The next bargaining session is Sept. 19 at CSU Dominguez Hills.
To support our Bargaining Team, be sure to display our "Steps Now, Strike Ready" Zoom background available at: www.csueu.org/bargaining - Click on Multimedia.
San Luis Obispo members of CSUEU and CFA came together for a fun-filled Labor Day picnic this year.

Erin Foote, Cal Poly SLO Vice President, presented Chapter President Tom Randall with a Labor Leadership Award.

The award honors selected union members who have strengthened their union through leadership, organizing and advocacy. Tom was also recognized for over 30 years of union service!
Join SEIU for a Webinar on Student Debt
CSUEU members are invited to an SEIU Webinar on Student Debt on Sept. 20 at 5 p.m.
SEIU Public Services Division and the Department of Education are co-hosting the webinar, where participants will receive guidance on available relief or forgiveness options, such as Public Service Loan Forgiveness (PSLF), income-based repayment plans, and more.
SEIU members who work in healthcare, social services, and education are most likely to hold student debt, at rates between 30% and 40%. Participants will also learn about the Biden administration's new student debt forgiveness plan.
Starbucks claims to be a progressive company, but when it comes to respecting workers' rights, the coffee giant has been stalling at the bargaining table and refusing to negotiate a fair contract with workers.

On Thursday, customers were asked to join for a day of petition signing outside of Starbucks stores across the country.

One CSUEU Chapter answered the call and showed up in solidarity! Great job, East Bay - we see you and your unionism!!
Pictured, L-R: Don Moreno, BU5 Vice Chair; Cecelia Grima Torres, Steward; Monica Abruzzo, Steward; Mary Kendall, Chapter President; and Nick Wirz, Labor Representative
New Studies Show Public Pensions Help Keep Seniors Out of Poverty
Two new studies and 50-state fact sheets find public pensions help keep seniors out of poverty while reducing the wealth gap for older women and retirees of color.
The reports by the UC Berkeley Labor Center find that defined benefit pensions—especially public pensions—are critical to providing adequate retirement income for seniors, and their anti-poverty effect is largest for Black and Latino retirees, women, and retirees without a four-year college degree. The reports also find that pension income is distributed more equitably by race and gender among older adults than other private financial assets.
Support the power of unions by joining CSUEU if you are not yet a member!