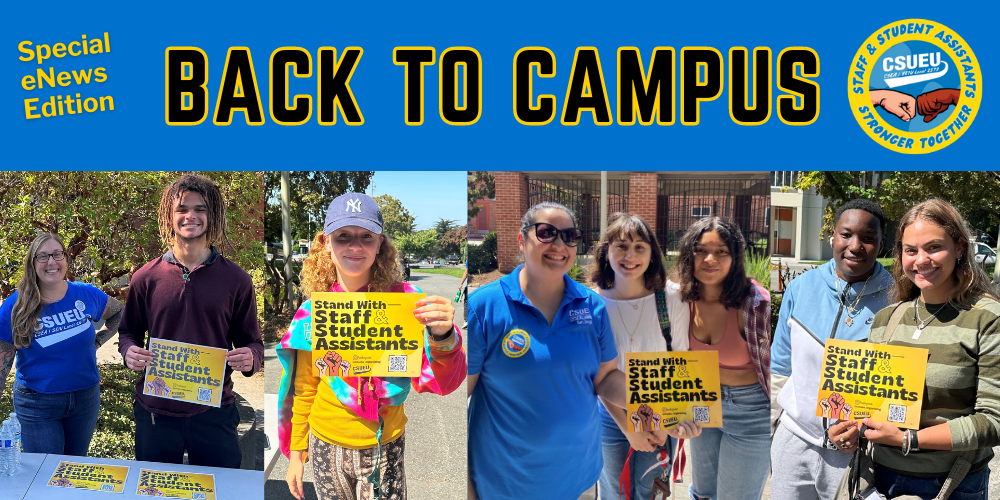 Staff and Student Assistants Team Up to Welcome Students to Campus
CSUEU members and student employees raise visibility of massive organizing movement underway for Student Assistants to join CSUEU
Thousands of students took their first steps onto a CSU campus for Move In Day this week, and CSUEU members were there to let them know we have their back. Our Labor Coalition used the meet-and-greet opportunity with students and their families to raise awareness of the vital services Staff and Faculty provide - and of the need for the CSU to invest in the workforce that is critical for student success.
CSUEU member leaders from Cal Poly Humboldt, San Diego State, Chico and Fresno also worked closely with a cadre of Student Assistants to spread the word of the massive organizing effort underway for student employees to form their union alongside CSUEU members. Check out the #StrongerTogether campus pics!
"The CSU exploits Student Assistants because they don't have a union - and we are going to change that. They perform real work, with real value for the University. We fully embrace the SAs in their fight for a seat at the bargaining table. The CSU is terrified that their wall-to-wall union workforce will be more powerful with Student Assistants joining our union family - but it is happening because this is an unstoppable movement!"
-- CSUEU Cal Poly Humboldt Chapter President Darci Miranda
| | | |
| --- | --- | --- |
| The CSU is supposed to be an economic engine of opportunity – but its budget priorities year after year have created a workforce shortage that jeopardizes students' success while burdening Staff and Student Assistants with unrealistic workloads.  | | |
We are fighting to restore the CSU to its mission of opening doors by investing in students and the workers who power the University. Do you work with an awesome Student Assistant and/or want to share why you believe we are #StrongerTogether? Click on this form to share your story! Bonus points if you send a selfie with a Student Assistant!
UC Labor Center Survey: Student Workers Struggle to Make Ends Meet
Students taking a labor course at UC Berkeley this Spring conducted a research project involving 221 student workers in Alameda County who attend public colleges and universities. The student researchers explored student workers' financial status and (in)security, their housing situation, and the effect of work on their academic life.
One significant finding: 75% of survey respondents meet the criteria for CalFresh and the main cause of economic insecurity is the high cost of rent in the San Francisco Bay Area.

CSU Support Staff are all too familiar with the struggles of living paycheck to paycheck. Which is why as we fight for salary reform in our contract re-opener negotiations with the CSU, we also demand that the Administration stop their stalling tactics and let the Student Assistants vote to form their union immediately.
"I get paid once per month and get an average of 5-10 hours. It makes life very hard! I would like a livable wage and an opportunity to work more hours. That's why we're forming a union alongside CSUEU members - to win respect and accountability from the CSU!" -- Arianna Alonso, Student Assistant, CSU Northridge
Union "School" for Aspiring Stewards
This year's final two new Steward trainings are scheduled for Sept. 9 and Dec. 9 for members who are not currently stewards but who would like to develop leadership skills.
The application links for each cohort are available starting now for those who are interested. Please share with those who would like to be a part of this opportunity.
Sept. 9 application link (closes Sept. 1): https://forms.gle/wsdKT62YLk91aNBj9
Dec. 9 application link (closes Nov. 27): https://forms.gle/DTyzTWagpsLcWadD8
Big Win! State Department of Education Superintendent Tony Thurmond met with CSUEU leaders and Student Assistants last week to learn about our efforts to secure a fair salary structure as well as the fight by student employees to form a union.
Afterward the state's top Education official tweeted his clear public support.
"Having the Superintendent on our side is huge and developing public allies is crucial as we press the CSU to invest in students and staff," said CSUEU President Catherine Hutchinson, who led the call with the Superintendent.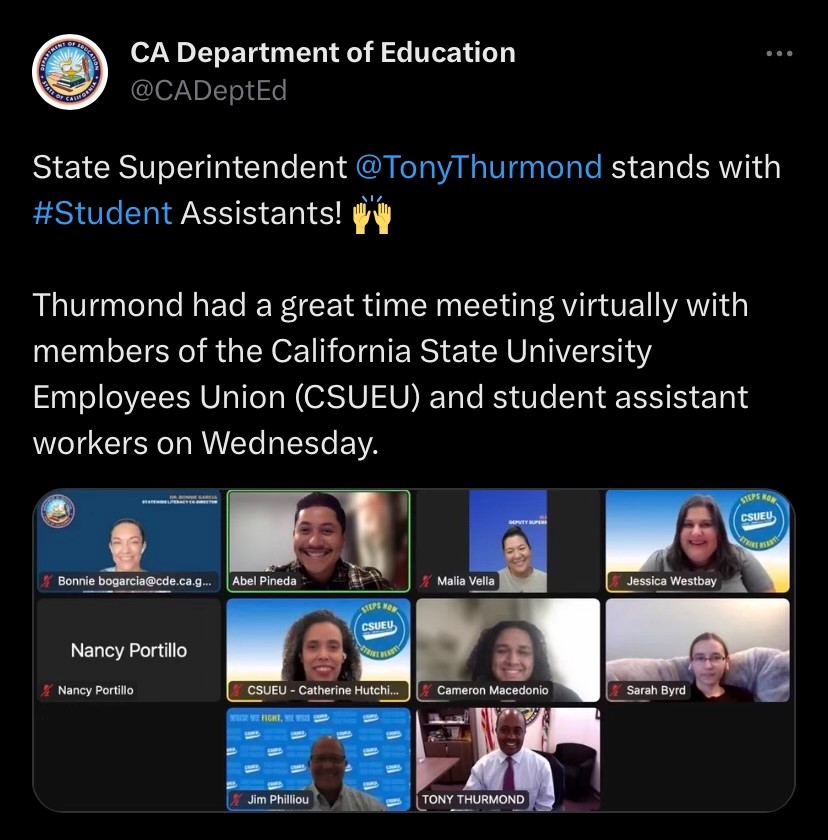 Left photo: (L-R) Ken Castillo, Los Angeles Chapter President; Rep. Adam Schiff; Hector Maciel, Cal Poly Pomona Chapter President

Right photo: Member leaders with Rep. Katie Porter

CSUEU Chapter Presidents Ken Castillo and Hector Maciel recently met up with other SEIU locals for a U.S. Senate candidate "Meet and Greet" event. The forum was a powerful reminder that as CSUEU members, we are part of a much bigger SEIU union family which is 600,000-member strong in California alone!
| | | |
| --- | --- | --- |
| Photo: (L-R) Assm. Addis; Monica Conner, BU 7 Rep; Jason Filice, BU 9 Rep; and Sathyan Sundaram, Chapter President | | CSUEU Monterey Bay Chapter hosted Assemblymember Dawn Addis for a campus tour with members last week. The legislator heard about staffing issues plus our efforts to win salary steps and and a union election for Student Assistants. |